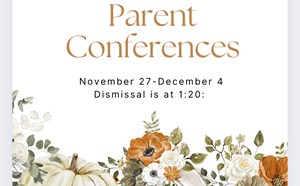 Our parent conferences will begin on Monday, November 27th and continue through December 4th. Students will be dismissed at 1:20 during conferences. This is an important time for parents and teachers to be able to meet and see how their child is doin…
Principal's Message
Welcome Stanley Families,
I am so excited to be the principal here at Stanley. There are so many new improvements to our campus happening including a new play structure and swings in the TK/K play area, a revamped library, and soon to be new swings in the main play area.
Stanley is a very special school with an amazing staff and we are looking forward to another incredible school year!  I hope you will stay connected through our Parent Square messages, social media, PTA, and with your child's teacher.  Our staff is committed to your child's academic success.
I truly believe that our families play a vital role in the educational success of their children.  Research shows that the more  parents involvement is directly tied to student achievement!   Your support is essential to your child's success in school. When the school, home and child work together, the child receives the best possible education.  You can help by:
Ensuring that your child is ready to learn at school:  is well rested, well groomed with school materials and arrives on time. School begins at 8:20!
Check papers, textbooks and other materials sent home to know what your child is learning.  Attend all conferences and school functions.  
Keep the line of communication between home and school open. If you are not connected to Parent Square please call the office and we would be happy to help you! Also check our website to stay up to date on all upcoming events!
Ensure a time and place for your child to complete homework.
Provide positive reinforcement and consistent consequences at home to support the classroom teacher. 
School hours:      
Grades TK – 6th: 
8:20-2:40 (Mon. Tues. Thurs. Fri.)
8:20-1:50 (Wednesday)
We are fortunate to have the Boys and Girls Club of Garden Grove on our campus.  They offer a daily free after school program for a limited number of students in grades TK-6th.  If you are interested, please stop by our office to pick up an application for your child or call the Boys and Girls Club at (714) 317-9561.
I am working closely with our PTA to plan a variety of events for our students and families to truly make this year special.
Hear us ROAR!  Stanley Tigers are Respectful, Organized, Accountable and Ready.
Angie Balius (Bay-liss)
Principal
Our School
Greetings Stanley Tigers!
Here at Stanley, our teachers, staff, and community work hard to provide an enriching school year for our 300+ students in attendance. All of our scholars practice 21st century skills as a means to acquire success in academics and in the future job market. 
Our PTA collaborates to help out with a variety of special events focusing on STEAM (Science, Technology, Engineering, Arts and Math) Family Movie Nights, , Saturday with Santa, TET Festival, Dia de Los Ninos, Lunch with a Loved One, and so much more! Our movie nights gather the Stanley community for an evening of family fun!  Parents can get involved in our active program by stopping by our office or emailing the PTA.
Stanley's after school programs provide additional instruction, enhancing student skill and knowledge. Here are our programs:
Our Boys & Girls Club provides free after school activities to select T-K through sixth grade students as they engage in structured activities. The program also centers around academic responsibility as students engage in an hour of homework help, known as Power Hour.
Our Musical Theater program has been in place for the past 8 years. Students rehearse twice a week to perform a spectacular show in April! This year they will be performing Disney's Aladdin Kids!
Here at Stanley, we make sure to praise students for all forms of achievement. Our monthly character awards are based on traits that teachers pick at the beginning of the year. Students who follow the traits are praised for good behavior and adept communication on campus! We also have our trimester awards, recognizing an eclectic choice of achievements. We also hold the end of the year awards celebration for each grade level.
Stanley was recognized as an Honor Roll School in 2016, 2017, 2018, 2019 and 2020 for our community's academic excellence. In addition, Stanley Elementary was named a California Distinguished School in 2020, Gold PBIS Implementation and Community Cares award recipient, and No Place for Hate school. We were identified as a Pivotal Practice School by the state for our ability to meet the needs of our students and families during the pandemic. 
Our tigers make a difference on campus each and every day! We would like to thank our highly trained staff for teaching all scholars the skills to positively impact their community. We are excited to embark on a new school year with our highly achieving scholars. For questions or ways to get involved, please visit our office or call us at (714) 663-6484.
Hear us ROAR! Stanley tigers are respectful, organized, accountable and ready!