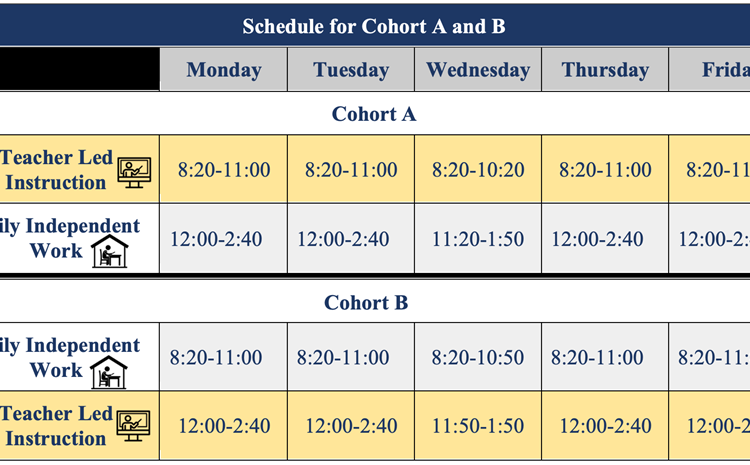 Stanley Reopening Information
2020-2021 Stanley Reopening Plan
Teacher Led Instruction
Every classroom teacher will lead live, in person or video based (for student participating in distance learning), interactive classroom instruction for 160 minutes every day. Students in transitional kindergarten through sixth grade will participate in:
Daily overview meeting and closure meeting including wellness check-ins.
Daily lessons led by their teacher with the whole class.
Small group instruction led by the classroom teacher.
English Language Learner students will receive specialized instruction.
Students with disabilities will receive special education services and supports.
Daily Independent Work 
In addition to the live instruction, students will participate in daily independent work including 20 minutes of reading, independent online learning assignments to build upon skills taught in class using online learning platforms including Pathblazer, physical education, science and social students practice, and interventions or tutoring by an aide or specialist based on student need.
Schedule for Cohort A and B

 

Monday

Tuesday

Wednesday

Thursday

Friday

Cohort A

Teacher Led Instruction

8:20-11:00

8:20-11:00

8:20-10:20

8:20-11:00

8:20-11:00

Daily Independent Work

12:00-2:40

12:00-2:40

11:20-1:50

12:00-2:40

12:00-2:40

Cohort B

Daily Independent Work

8:20-11:00

8:20-11:00

8:20-10:50

8:20-11:00

8:20-11:00

Teacher Led Instruction

12:00-2:40

12:00-2:40

11:50-1:50

12:00-2:40

12:00-2:40
Classroom Set-Up 
Once in-person/hybrid instruction begins at Stanley Elementary, all students will receive their instruction from their classroom teacher on campus, in their assigned room. To ensure proper social distancing and safety, please note the following: 
Individual teachers will reach out with a specific list of needed materials.
Students will be spaced 6 feet apart in the classroom.
Students will have their own clear 3-panel divider on their desks to provide an extra layer of protection.
Students will have their own set of supplies for classroom use.
Students will NOT attend group assemblies or use the MPR and library.
Teacher's desk will be at least 6 feet from the closest student desk. 
Teachers will wear appropriate PPE, including face masks and face shields.
Classrooms will have 14-18 desks that are socially distanced.
Classrooms will contain less furniture, and only have essential supplies and furniture.
Classrooms will be sanitized between cohort groups and every evening.
Classrooms will have soap and hand sanitizer dispensers.
Supervision
Limited additional supervision will be available to families of essential workers.  Supervision will be provided by Boys and Girls Club employees and other classified employees.  Student supervision will not include additional teacher led instruction.  Reach out to Stanley Boys and Girls Club to complete an application. 
Before and After School to Ensure Physical Distancing 
The district requires all students and staff to self-screen at home for symptoms of COVID-19 and to stay home if ANY symptoms exist. Both students and staff will be expected to submit a daily health screening form via ParentSquare regarding COVID-19 symptoms including a daily temperature reading. This will require that all families, staff, and students activate their ParentSquare accounts.

Hand sanitizers stations will available at every campus entrance for student use when entering school.  All parents and employees must wear a mask when on school grounds. Keeping 6 feet of distance helps reduce the spread of COVID-19.  Stanley will implement the following practices to help ensure 6 feet of distancing is implemented whenever possible:
Parents and non-essential visitors will not have access to campus beyond the main office to reduce traffic on campus.
Routes will be established for high-traffic areas and floor decals provided to demonstrate 6 feet of distance where needed.
Procedures for Drop-Off and Pick-Up
Students will be allowed to enter campus no more than 10 minutes prior to their start time (8:10 & 11:50; Wed is 8:10 & 11:40). Students will walk directly to class when entering campus.  Students will enter and exit our campus through an assigned gate that is designated on the map. Prior to entering the school gate, ALL students will have their temperature checked. At dismissal time, please stay in the assigned areas and maintain physical distancing.  Siblings will be able to enter the same gate, except TK and Kindergarten students.
Families will use the following gates for drop-off and pick-up (see map).  No curb pick-up or drop-off will be available for any grades.   Parents must park in a designated parking spot, get out of the vehicle, and walk/meet the student at the designated gate.  Parents are to wait on the colored dots or maintain physical distancing in the grass areas in front of school.
TK/K – Kinder Gate
Grades 1 & 2 – Gate between Office and Kinder Classrooms
Grades 3 & 4 - Gate between Office and MPR
Bus Riders – Gate between MPR and 30s Wing
Grades 5 & 6 – Gate in Back Parking Lot
Breakfast and Lunch
There will NOT be breakfast or lunch service inside the cafeteria for students.  Students attending in-person instruction will be able to participate in the district's grab and go meals option, including breakfast, lunch and snacks.  The meals will include breakfast for the following day, a snack and lunch. Students will pick up the grab and go meal at the assigned exit gate.  Students will eat lunch and breakfast off campus. 
For students in Distance Learning, you may continue to participate in Grab N' Go at a different pick-up location. Please check with district communication for the most up-to-date Grad 'N' Go pick up locations. 
Special Education Maintaining Inclusive Setting

Students in Special Education will either receive support from instructional aides or Educational Specialists by sitting in an outside area, via video conferencing, or in a different classroom.  All locations will be disinfected between uses by students and staff.      
Restroom Usage and Regular Hand Washing
All classrooms have a sink, soap dispenser, and automatic hand sanitizer dispenser.  Current routines and procedures limit the number of students in the restroom to two at a time, this will continue.  Students will be limited to using the restroom at the end of each building wing.  Routes have been established for high-traffic areas and floor decals provided to demonstrate 6 feet of distance throughout the campus.  Portable hand washing stations have been set up throughout the campus.
Masks
All students and staff are REQUIRED to wear a mask upon arrival, throughout the day and at dismissal. Each student will receive a free student masks and face shield.
Mandatory Prevention & Screening
Every student/family will be required to log in to Parent Square DAILY, before arriving at school. Students MUST stay home with a fever of 100.4 or higher or if they have any COVID symptoms including chills, cough, shortness of breath, sore throat, new loss of smell/taste, and others. Students may not be sent to school with fever reducing medication.  All students will have their temperature taken at the gate BEFORE entering campus. If a student has a temperature of 100.4, they will be sent home immediately.
CARE Room
GGUSD asks for the cooperation and support of all stakeholders in creating a safe school/work environment. Students, families, and employees are asked to self-screen from home and stay home if they have these symptoms:
A fever of 100.4 or higher
Chills
Cough
Shortness of breath
Sore throat
New loss of taste or smell
All school and district facilities will display signage reminding the public that anyone with COVID-19 symptoms must not enter the campus.
Cleaning
Custodial staff has been trained on specialized COVID cleaning and disinfecting procedures, and use of equipment. Classrooms and other areas will also be sanitized and cleaned during the cohort break between the AM/PM cohorts, and at the end of each day. 
Upcoming Dates:
Monday, March 8th & Tuesday, March 9th: ELPAC Testing on Campus (by appointment only)
Tuesday, March 9th: TK, K and 1st grades begin in-person instruction
Thursday, March 11th: 2nd and 3rd grades begin in-person instruction
Monday, March 15th: 4th, 5th and 6th grades begin in-person instruction
Friday, March 19th – Friday, March 26th: Parent Teacher Conferences
March 29th – April 2nd: Spring Recess